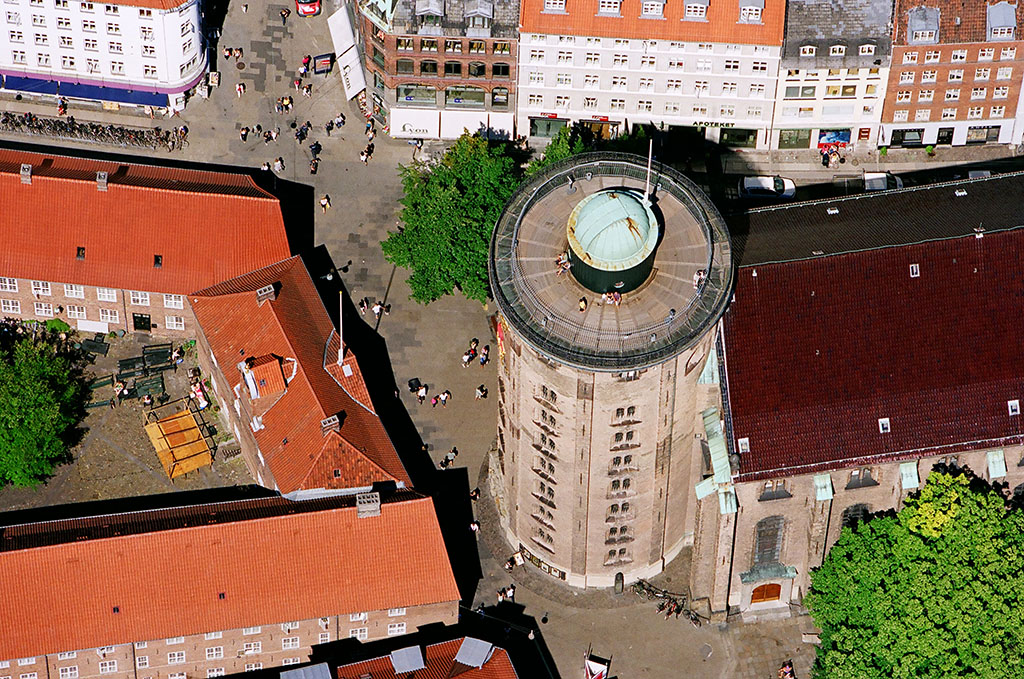 Fantastic view from the top
Today it is a great tourist attraction, because the eccentric architecture and the fantastic view over inner Copenhagen. Inside the tower there is a 268,5 meter (outer length) long spiral ramp, that ends at a platform almost 40 meter above the street level.
If you join a guided tour, you can learn about the history of astronomy in Denmark in the 17th century, and about the tower and library hall that is a museum today. Tycho Brahe and H.C. Andersen
The idea of building a scientific observatory originated in the observatories built in 1570s by the famous Danish astronomer Tycho Brahe on the isle of Hven. The observatory identical to Stjerneborg was to be placed on the top of the Round Tower; it should be reached by horse carriage. As time went by, in the beginning of the 20th century, a German tourist drove his powerful Beaufort car up the spiral ramp. Today, the ramp is a scene for a annual one wheel cycle rally.
Tree dogs with dreadful eyes guarded the treasure in H C Andersen's fairytale The Tinder Box: one dog had eyes as big as saucers, one was with eyes as big as mill wheels, and one had eyes as big as... the Round Tower of Copenhagen. So the Tower is really huge...
Location: in the pedestrian street Købmagergade; a 20 min walk from the Town Hall Square.
---