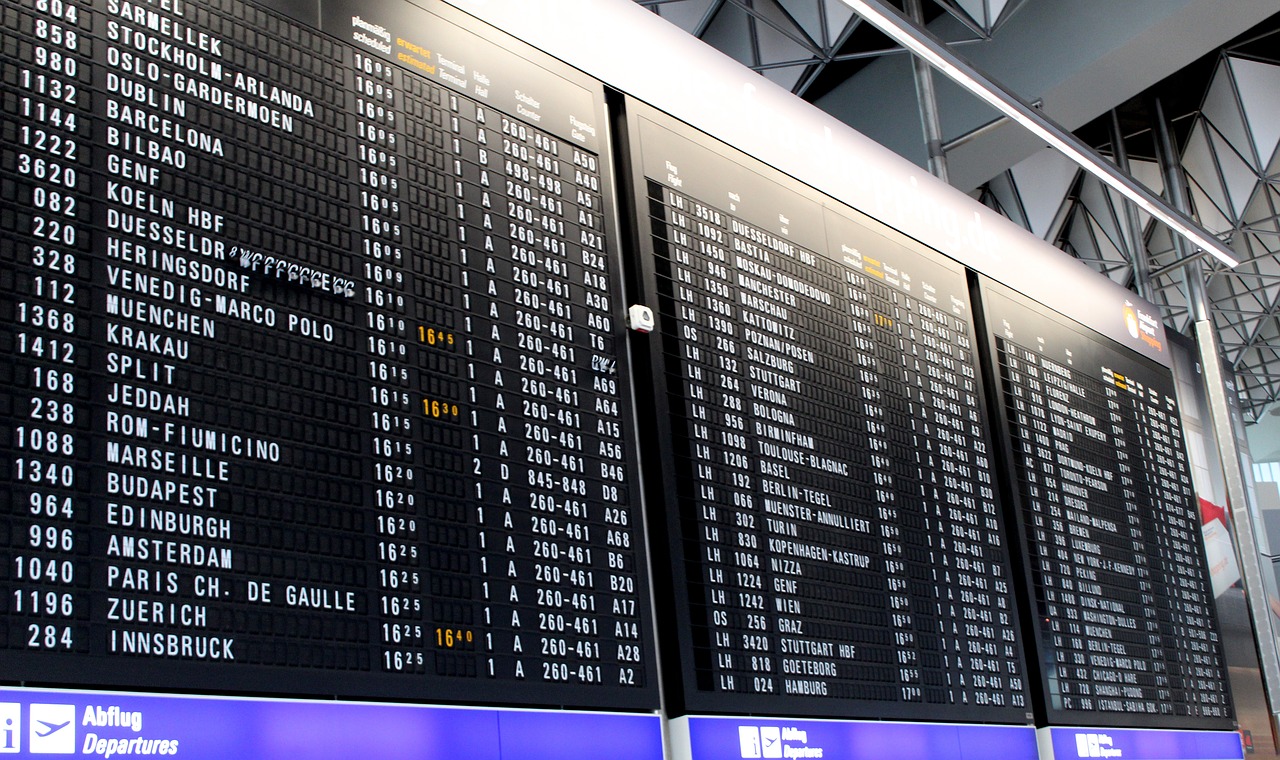 BY AIR
Copenhagen Airport is the major airport in Northern Europe and it was rated the best in the world in 2002. It gives you a choice of more than 132 different destinations worldwide. Tokyo is 10 hours away and New York 7 hours.
COPENHAGEN AIRPORT - Københavns Lufthavn, Kastrup (CPH) is the major airport for both cities Copenhagen, Denmark and Malmö, Sweden. Around 2 million passengers - both on international and domestic flights - pass Kastrup every year.
Apart from the largest Scandinavian airline SAS (Scandinavian Airlines), almost all the worlds major airlines are represented here. The airport is located in Amager, south of the city center and only few minutes drive from the Öresund Bridge. The trip by Metro (subway) from the city centre takes 14 minutes.
Accessibility to and from the Copenhagen Airport is by car/taxi or bus - right in front of the entrance, and the railway station beneath Terminal 3 where the Copenhagen Metro connects.
BY TRAIN
You can reach Copenhagen by direct trains from all major cities in Europe. More than 1 000 trains depart every day to international, national, regional and local destinations.
HOVEDBANEGÅRDEN - THE CENTRAL STATION
Grand Central Station, Hovedbanegården, was built in 1911, rebuilt and extended with a modern shopping centre in 1994 and is now back to its grandeur from the last century, welcoming more than 80,000 people every day, 365 days a year.
In the more than 40 shops, restaurants and service facilities you will find most of the things that you forgot to pack - 365 days a year!
BY CAR
Reach Copenhagen by car from different directions. From within Denmark, Sweden in the east or Germany in the south
FROM WITHIN DENMARK
Motorways connect all islands of Denmark. To the capital leads from the west the motorway E20, from south and notrh E47. The speed limit on motorway is 130 km/h (80 mph), roads outside build-up areas has 80 km/h (50 mph) limit. In the build-in areas you can drive max. 50 km/h (30mph).
Every year Vejdirektoratet (the Danish Road Directorate) publishes a leaflet called "Motorvej" that contains maps of the Danish motorways, citymaps of the bigger cities, information about hotels, motels, bed & breakfasts etc.
DRIVING FROM SWEDEN
You have a few options depending on from where in Sweden you are driving. If you are close to Malmö, the Øresund bridge is your best choice. This fixed link connecting Sweden and Denmark is one of the largest constructions of its kind in the world. It is a combination of a bridge, an artificially made island, Peberholmen, and a tunnel. All together 16 kilometres (10 miles).
It is a 30 minutes drive from city to city. From Helsingborg there are ferries running 24 hours a day to Helsingør (Elsinore). The crossing takes 20 minutes and Copenhagen is within less than an hour drive.
DRIVING FROM GERMANY
Copenhagen is just next door to Germany. You have a couple of options getting here by car; driving via Jutland and then to cross the Great Belt Bridge (Storebæltsbroen), the world's second longest suspension bridge with a span of 1,624 metres, exceeded only by a Japanese bridge and with pylons higher than the Golden Gate Bridge's. From the border, there will be approximately a 3 hour drive to the capital.
The other options are to take the ferry from Puttgarden to Rødby, or from Rostock to Gedser. Once in Denmark, you have a good hour drive to the capital.
---